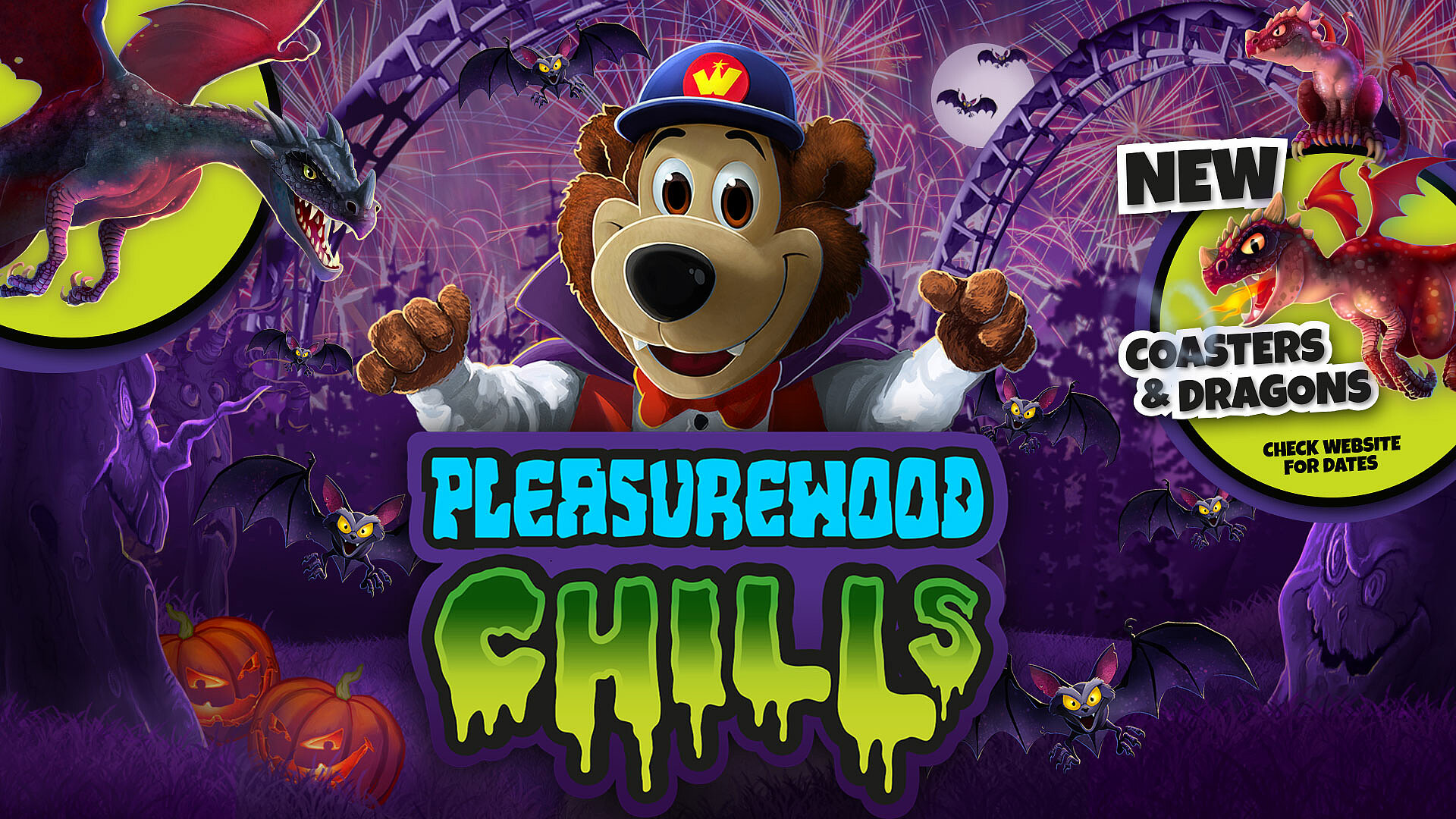 Pleasurewood Chills October half term
There's plenty of spooktacular fun to be had this October half term with the Halloween celebrations, Pleasurewood Chills. Join us from 21st-29th October where you favourite family theme park becomes frightfully fangtastic.
For all the little Ghouls and Goblins, we are introducing our brand new experience, Coasters & Dragons. This will be Tuesday 24th to Thursday 26th October only so be sure not to miss out. Meet and greet our fire-breathing friends, with our larger that life dragon and all the cheeky little baby dragons, who'll be delighted to welcoming you. Plus, get magical with the Wizard Academy. The dragons and wizard academy are included in park admission.
Love creepy crawlies? By popular demand, the Creepy Cave is back. Adventure into mother nature's undergrowth and meet some incredible little critters, with six legs, eight or even more. Come and say hello to Dora (a very large spider) and all her friends, and learn about these amazing creatures. Creepy Cave is included in park admission.
Are you feeling extra brave? Experience the Extreme Scream with our renown horror mazes. Board the one-way ticket to the destination of doom, the Hell Express, and venture into the abandoned and demon possessed mines of Shaft 13 and come face to face with the infamous Hob. Access to the mazes requires a maze ticket additional to park entry. Tickets can be bought online or at the park's gift shop, Woody's Emporium. Please note, the scares experiences may not be suitable for guests under 12 years of age. The mazes are designed to scare and may not be suitable for those which pre-existing medical conditions. If in double, please do not attend.
Fun for the little ones, the House of Little Horrors is back, fun for all the little monsters. Guests can take part in traditional pumpkin carving, have a scary face paint glow up, dive into the slime bucket and much more. Activity fees apply.
To round the season off in epic style, we have welcomed back, the celebration artists, Titanium, for our end of season firework finale on Sunday 29th October. As well as all the favourite rides and attractions, plus Halloween activities, we'll have live DJ Gary Sulter from Sundown Festival and Popworld join us. After a fun day on park, the skies will be illuminated with an incredible display, with lights and all singing soundtrack. This will be a sell out event, be sure to buy your tickets early to avoid disappointment. Season pass holders are required to reserve entry online at just £3 per pass holder this season.
We can't wait to welcome you… We'll see you all soooOooon.